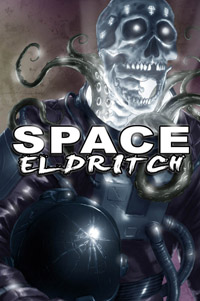 If you enjoy reading science fiction/fantasy, then check out Space Eldritch. It is now available on Nook eReaders.  A friend of mine (David West) and fellow Robert E. Howard fan contributed to the work. If you own a Nook follow the link, it will take you directly to the work.
Here's a description of the work:
Startling Stories meets Weird Tales in SPACE ELDRITCH, a volume of seven original novelettes and novellas of Lovecraftian pulp space opera. Featuring work by Brad R. Torgersen (Hugo/Nebula/Campbell nominee), Howard Tayler (multiple Hugo nominee), and Michael R. Collings ( author of over 100 books), plus a foreword by New York Times bestselling author Larry Correia, SPACE ELDRITCH inhabits the intersection between the eternal adventure of the final frontier and the inhuman darkness between the stars.
Okay, shameless plug over, go about your usual reading. Cheers!